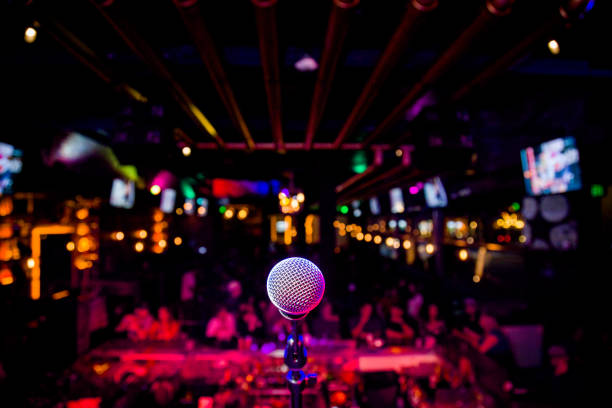 The last thing you want is to bring an entertainer to your event that ends up being inappropriate for the crowd. This may seem like a mistake that would be easy to avoid but this list will help you even more. Let's review some great ideas for performers at all-age gatherings.
DJs
Everyone loves music or at least they probably like it. Hiring a DJ could be beneficial because you can please everyone. The DJ can mix it up with the tunes, offer karaoke, and usually can keep the crowd interested in between songs.
Children especially enjoy dancing to a DJ spinning different songs. Generally, if the kids are entertained, then everyone is pretty happy. DJs can come prepared with their own setlists tailored to your event. Keep it PG by simply asking for clean music that is appropriate for all ages.
Another detail that's wonderful with DJs is that they really won't need too much space for their things and they bring all of their own equipment for the most part. They usually don't need much from you as the party planner which gives you time to actually enjoy your own event.
Comedians
An underrated act in the event planning industry is comedy. What is the best part about going to a party besides the drinks? Laughing your butt off and having a good time. Great comedians are intriguing, personable, and know how to read a crowd.
Some comedians can be a bit inappropriate which is sometimes the point. However, you can hire a Christian comedian that has experience performing sets that are suitable for all ages. Even if you are not looking specifically for religion-based comedy, they are just as good with family-friendly humor.
Comedy sets are one of those unique entertainment experiences that most folks don't get to enjoy very often. If you really want to knock your guests off their feet, go with a comedian. They are guaranteed to provide world-class laughs and have your guests talking about your party for months.
Impersonators
If Captain America or any of the other Avengers are at a party I attend, I am immediately entertained and would like photos taken with them as soon as possible. Even if you aren't a huge fan of who is being impersonated it is still wild and unique fun.
If you are having a party for a child, you could even hire a princess or other cartoon characters. However, if you're just looking for an entertainer that can appeal to everyone, you can hire Marilyn Monroe, Tom Cruise, or even Dog the Bounty Hunter.
The greatest part of hiring an impersonator is the engagement they provide to your audience. Impersonators get into full costume and full character so you know they are not messing around. Your guests will love meeting a "famous celebrity" and I'm sure everyone will want pictures.
Additionally, you can set up a backdrop with props so your guests can really have fun with the impersonator. Professional impersonators will keep the fun flowing freely all throughout your party. Whatever entertainer you decide on, remember to call beforehand, ask the right questions, and do whatever you can to accommodate them.